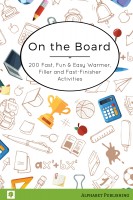 On the Board: 200 Fast, Fun & Easy Warmer, Filler and Fast-Finisher Activities
by

Alphabet Publishing
(5.00 from 2 reviews)
On the Board contains over 200 proverbs, brain teasers, riddles, puzzles, and jokes, all collected, classroom-tested, and curated over my 16 years of teaching ESL & EFL. Pick one, put it up on the board, and get students thinking and working as soon as class begins.These activities are the easiest, no-prep, fun ways to kick off your class. They also work as fillers, closers, or for fast-finishers.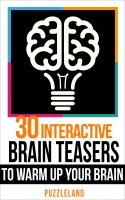 30 Interactive Brainteasers to Warm Up your Brain
by

Puzzleland
(5.00 from 1 review)
"30 Interactive Brain teasers to Warm Up your Brain" is a mini edition by Puzzleland, containing 30 easy brain teasers to get your mind warmed up for the day! This little fun book is ideal for teens and adults who look for some creative ways to spend their free time, entertain their mind or simply keep themselves busy while waiting in public locations!
Related Categories