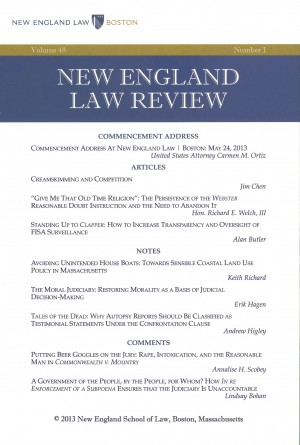 New England Law Review: Volume 48, Number 1 - Fall 2013
by

New England Law Review
Vol. 48, No. 1 includes Commencement Address at New England Law: Boston, May 24, 2013, by Carmen Ortiz; Creamskimming and Competition, by Jim Chen; "Give Me That Old Time Religion": The Persistence of the Webster Reasonable Doubt Instruction, by Hon. Richard E. Welch, III; Standing Up to Clapper: How to Increase Transparency and Oversight of FISA Surveillance, by Alan Butler; and Notes & Comments.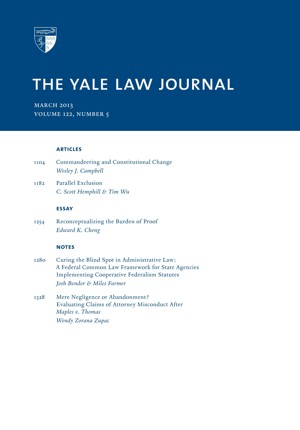 Yale Law Journal: Volume 122, Number 5 - March 2013
by

Yale Law Journal
The Yale Law Journal (Vol. 122, #5) features articles and essays on law and legal theory by internationally recognized scholars. Contents include "Commandeering and Constitutional Change," by Wesley Campbell; "Parallel Exclusion," by C. Scott Hemphill & Tim Wu; and "Reconceptualizing the Burden of Proof," by Edward Cheng; in addition, this March 2013 issue contains substantial student research.