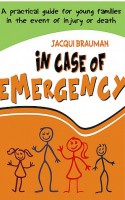 In Case of Emergency
In an easy-to-read story format, In Case of Emergency is for families with young children, showing them how to plan and prepare for a serious injury or death.
Wills, Trusts & Estates Workbook: Representation
This workbook provides the law student and attorney step by step instructions (with detailed examples) on the three forms of representation taught in a Wills, Trusts & Estates course: strict per stirpes, modern per stirpes, and generational per capita. Following the instructional material the workbook provides practice problems (and answers) for the law student to develop these practical skills.