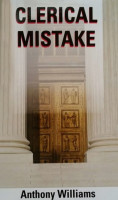 Clerical Mistake
by

Anthony Williams
This story is about a forty-two year old man incarcerated for the first time. It is based on a true story. Juwan chronicled his journey through a gauntlet of achievements, and failures. It is a compelling tale of lust, greed, selfishness, betrayal, loss, reunion, reconciliation, and love. Juwan's account of what he experienced being thrust into the legal system by corrupt public servants.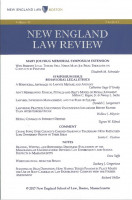 New England Law Review: Volume 51, Number 1 - Winter 2017
by

New England Law Review
Issue 1 features a Symposium, "Behavioral Legal Ethics," by Catherine Gage O'Grady, Milton C. Regan, Jr. & Nancy L. Sachs, Donald C. Langevoort, Tigran W. Eldred, and Wallace J. Mlyniec. The issue also includes an essay by Elizabeth M. Schneider, "Why Feminist Legal Theory Still Needs Mary Joe Frug: Thoughts on Conflicts in Feminism," in honor of the late Professor Frug. Plus Notes and a Comment.