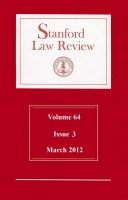 Stanford Law Review: Volume 64, Issue 3 - March 2012
The March 2012 issue of the Stanford Law Review contains studies of law, economics, and social policy by recognized scholars on diverse topics of interest to the academic and professional community. Contributors include Jordan Barry; Karen Knop, Ralf Michaels & Annelise Riles; Kathryn Judge; plus the issue has 2 student articles. Topics include actual innocence, feminism and culture, and finance.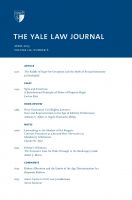 Yale Law Journal: Volume 122, Number 6 - April 2013
Yale Law Journal's April '13 issue features an article on rape-by-deception and the myth of sexual autonomy, by Jed Rubenfeld; an essay on extortion and "abuse of property right," by Larissa Katz; and a book review essay on the new generation of civil rights lawyers and the construction of racial identity, by Anthony Alfieri & Angela Onwuachi-Willig. Issue also features extensive student research.