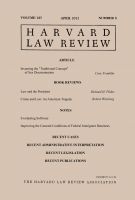 Harvard Law Review: Volume 125, Number 6 - April 2012
Articles in Issue 6 are by Cary Franklin (on the "traditional concept" of sex discrimination), Richard Pildes (on law and the President), & Robert Weisberg (on the tragedy of crime). Student contributions explore everlasting software; incarcerating immigration detainees; the First and Fourteenth Amendments; Sixth Amendment implications of napping defense counsel; copyright law; & other topics.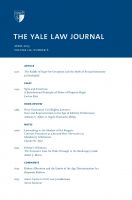 Yale Law Journal: Volume 122, Number 6 - April 2013
Yale Law Journal's April '13 issue features an article on rape-by-deception and the myth of sexual autonomy, by Jed Rubenfeld; an essay on extortion and "abuse of property right," by Larissa Katz; and a book review essay on the new generation of civil rights lawyers and the construction of racial identity, by Anthony Alfieri & Angela Onwuachi-Willig. Issue also features extensive student research.