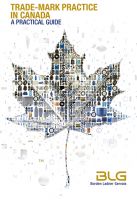 Trade-mark Practice in Canada: A Practical Guide
This book provides a practical overview of Canadian trade-mark practice. Guidance is provided on requirements for filing trade-mark applications. Other topics covered include certification marks, distinguishing guises, and domain names, as well as adversarial or contentious proceedings such as oppositions, cancellation, passing off, and infringement, and a discussion of relevant case law.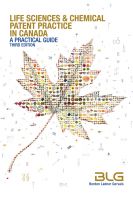 Life Sciences and Chemical Patent Practice in Canada: A Practical Guide (Third Edition)
This book provides an overview of Canadian patent practice in the life sciences and chemical arts. It provides guidance on specific subject matter areas (chemical compounds, antibodies, biopolymers, etc.) as well as an overview of patent challenges, and regulatory issues, including the Patented Medicines (Notice of Compliance) Regulations, and the Patented Medicine Prices Review Board.