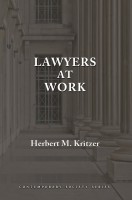 Lawyers at Work
by

Herbert M. Kritzer
A collection of articles and essays by Herbert Kritzer draws on his extensive research related to lawyers and legal practice conducted over the last 35 years. That research has applied existing theoretical frameworks and developed innovative ways of thinking about how to understand what it is that lawyers do. The chapters reflect the wide range of qualitative and quantitative research methodology.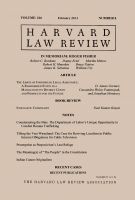 Harvard Law Review: Volume 126, Number 4 - February 2013
by

Harvard Law Review
Contents of No. 4 are: "The Limits of Unbundled Legal Assistance: A Randomized Study in a Massachusetts District Court and Prospects for the Future," by James Greiner, Cassandra Wolos Pattanayak & Jonathan Hennessy; Review, "Stochastic Constraint," by Neal Kumar Katyal; Note, "Counteracting the Bias: The Department of Labor's Unique Opportunity to Combat Human Trafficking"; and more student work.