Derecho ambiental
by

Efraín Pérez
Derecho Ambiental, es una obra del Dr. Efraín Pérez, en virtud de lo cual imparte una explicación de la nomenclatura ambiental, conceptos y principios; asimismo recrea la problemática contemporánea, y como resultado considera temas de preservación, conservación, uso, y aprovechamiento de las políticas de desarrollo sustentable del medio ambiente.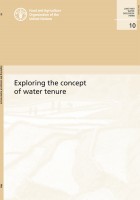 Exploring the concept of water tenure
by

FAO
This paper seeks to provide answers to the following questions: (a) What is water tenure? (b) Does water tenure really exist or is water simply too different from other natural resources policies and practices? (d) Is there scope for further work on the possible development of guidelines on water tenure?