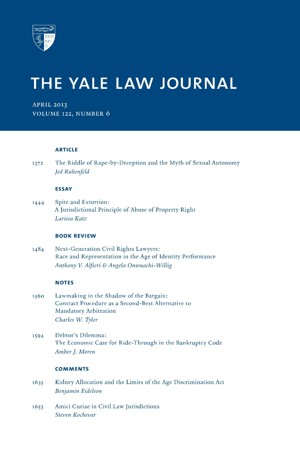 Yale Law Journal: Volume 122, Number 6 - April 2013
by

Yale Law Journal
Yale Law Journal's April '13 issue features an article on rape-by-deception and the myth of sexual autonomy, by Jed Rubenfeld; an essay on extortion and "abuse of property right," by Larissa Katz; and a book review essay on the new generation of civil rights lawyers and the construction of racial identity, by Anthony Alfieri & Angela Onwuachi-Willig. Issue also features extensive student research.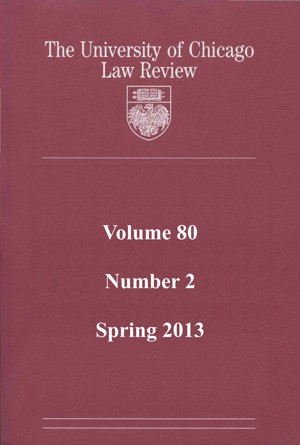 University of Chicago Law Review: Volume 80, Number 2 - Spring 2013
by

University of Chicago Law Review
The University of Chicago Law Review's 2nd issue, 2013. Contents include: "Property Lost in Translation," by Abraham Bell & Gideon Parchomovsky; "Tiers of Scrutiny in Enumerated Powers Jurisprudence," by Aziz Huq; "State and Federal Models of the Interaction between Statutes and Unwritten Law," by Caleb Nelson; and "Our Electoral Exceptionalism," by Nicholas Stephanopoulos; and essays & a Comment.