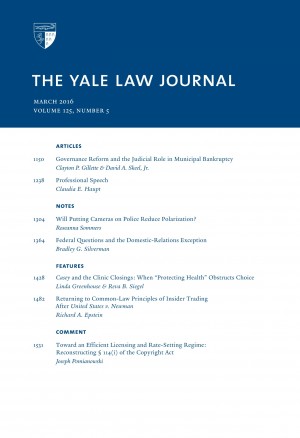 Yale Law Journal: Volume 125, Number 5 - March 2016
by

Yale Law Journal
Contents include: "Governance Reform and the Judicial Role in Municipal Bankruptcy," by Clayton P. Gillette & David A. Skeel, Jr., "Professional Speech," by Claudia E. Haupt, "Casey and the Clinic Closings: When 'Protecting Health' Obstructs Choice," by Linda Greenhouse & Reva B. Siegel, & "Returning to Common-Law Principles of Insider Trading After United States v. Newman," by Richard A. Epstein.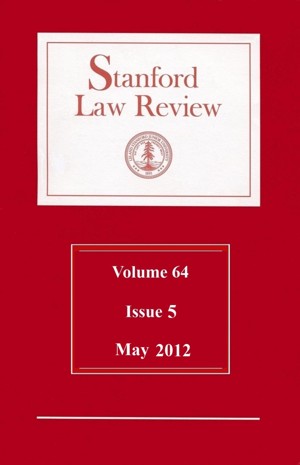 Stanford Law Review: Volume 64, Issue 5 - May 2012
by

Stanford Law Review
Contents for the 5th issue of Stanford Law Review (May 2012) are: "The City and the Private Right of Action," by Paul A. Diller; "Securities Class Actions Against Foreign Issuers," by Merritt B. Fox; "How Much Should Judges Be Paid? An Empirical Study on the Effect of Judicial Pay on the State Bench," by James M. Anderson & Eric Helland; and a Note on job discrimination and hiring anonymously.