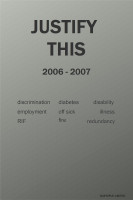 Justify This 2006 - 2007
by

Nostaple Limited
(4.00 from 1 review)
The Justify This series of books is a blow by blow account of one person's true story of alleged disability (diabetes) discrimination in the workplace, leading to legal cases against a multinational employer and international countries, through local courts, national courts, international courts, and the United Nations.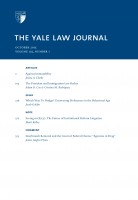 Yale Law Journal: Volume 125, Number 1 - October 2015
by

Yale Law Journal
Contents of the Oct 2015 issue (Vol 125, No 1): Articles: Against Immutability, by Jessica Clarke; and The President and Immigration Law Redux, by Adam Cox & Cristina Rodriguez; Essay: Which Way To Nudge? Uncovering Preferences in the Behavioral Age, by Jacob Goldin; Note: Saving 60(b)(5): The Future of Institutional Reform Litigation, by Mark Kelley; and Comment: Interbranch Removal and the CFC.