Techniques on Using Automotive Diagnostic Equipment
by

Mandy Concepcion
This "Tools and Equipment" (Techniques on Using Automotive Diagnostic Equipment) book serves as a basic primer for any future equipment purchasing decisions. An effort was made to cover some of the OEM tools available today. Furthermore, detailed operational explanations were presented so as to introduce and explain the intricacies of each tool.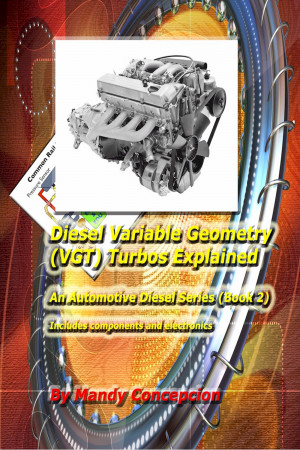 Diesel Variable Geometry (VGT) Turbos Explained
by

Mandy Concepcion
This book cover in detail modern Diesel Variable Geometry Turbo chargers. It includes specific illustrations derived from our DVD video series, which compliments this book. The work studies in detail the mechanical and electronic side of Diesel VGTs in general. This book is the second of a multi-series on Diesel technology.