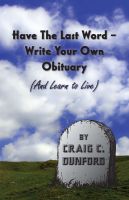 Have The Last Word – Write Your Own Obituary (And Learn to Live)
by

Craig C. Dunford
A self-help guide to writing your own obituary. Learn the secrets not often shared about living a full and happy life. Obituaries can contain some of the most interesting, amazing and touching stories imaginable. This guide provides step by step details and nearly a hundred examples written by some of the most fascinating people of this century. You too can have "the last word".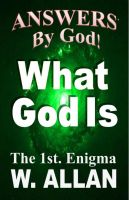 Answers By God! What God Is
by

William Allan
This book explains exactly what God is, and how civilization has a total lack of understanding of the true nature of God. God is not human and cannot be understood as long as you insist on projecting on Him, human-like characteristics. I explain why your conception that God creates man in His image is a big mistake, since, mankind creates their Gods in their own image and not the other way around.
Related Categories