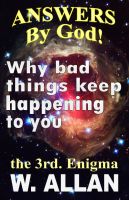 Answers By God! Why Bad Things Keep Happening To You
by

William Allan
Bad things seem to happen to everybody, but for some people the string of bad events seems to be endless and pervasive. There are many reasons that bad things happen, and in this book you will learn how reality is constructed and how to create positive events in your life instead of negative events. I outline steps you can take to rid yourself of the negativity and create a fulfilling life.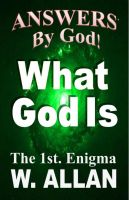 Answers By God! What God Is
by

William Allan
This book explains exactly what God is, and how civilization has a total lack of understanding of the true nature of God. God is not human and cannot be understood as long as you insist on projecting on Him, human-like characteristics. I explain why your conception that God creates man in His image is a big mistake, since, mankind creates their Gods in their own image and not the other way around.
Related Categories