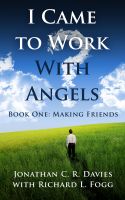 I Came to Work with Angels, Book One: Making Friends
by

Jonathan C.R. Davies
Book 1 tells of the adventure, exploration and discovery through profoundly fascinating conversations with many unseen Higher Beings and Intelligences of our Universe. "Making Friends" documents one on one relationships developed over many years.. Absolutely unique, the scope of this complete work is epic in nature leading to a possible simple solution to humanity's current situation on Earth.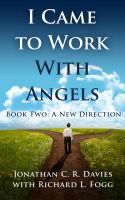 I Came to Work with Angels, Book Two: A New Direction
by

Jonathan C.R. Davies
The transcripts continue the "Conversations with Consciousness" theme. We, as humble humans, begin to work with the heavens to address the challenges faced by us all. "A New Direction" unfolds as relationships of trust and mutual respect grow stronger. Many other intelligences engage and fresh perspectives are brought to light.We continue the adventure and sense our intended place in creation.