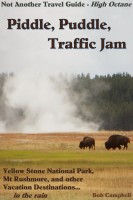 Not Another Travel Guide - High Octane: Piddle, Puddle, Traffic Jam - Yellow Stone National Park, Mt Rushmore, and other Vacation Destinations in the Rain (Idaho, Montana, South Dakota, Wyoming)
by

Bob Campbell
Hold onto yer butt for this 3,000 mile journey across the northwestern interior states of Idaho, Montana, South Dakota, & Wyoming (including brief mentions of Oregon and Washington). Includes stops at Yellow Stone National Park, Mt Rushmore, Devils Tower, Jewel Cave, plus lots more in 200+ full color pictures as you travel with us from rest area to traffic jam across the region.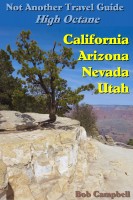 Not Another Travel Guide - High Octane: California - Nevada - Utah - Arizona
by

Bob Campbell
Eight days, seven nights, 4000 miles, and over 90 full color images with fast flowing text pull you through an incredible journey through California, Nevada, Utah, and Arizona. Includes stops at Blythe Intaglios, San Francisco Golden Gate Bridge, Desert Arizona, the Grand Canyon, Zion and Yosemite National Parks, and more.