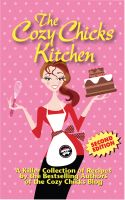 The Cozy Chicks Kitchen
by

Cozy Chicks
Friends, food, and fellowship. That is what home feels like. And the kitchen is the heart of the home. This sense of warmth and companionship is what The Cozy Chicks try to invoke in our novels. And now, our cookbook will invite you to enter the heart of our cozy mystery worlds—the stories of our characters and of their authors, told through food.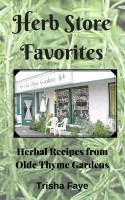 Herb Store Favorites
by

Trisha Faye
Herbs, herbs, herbs…Olde Thyme Gardens revolved around herbs – growing them, cooking with them and crafting with them. In Herb Store Favorites, we bring you the favorites that we collected. Cheese Dilly Bread, Cranberry Orange Honey Nut Muffins, Green Rice, Lavender Shortbread, Rosemary Cookies and Lemon Verbena Buttermilk Pound Cake – along with a host of others.
Related Categories