I Can't Believe It's Vegan! Volume 2 – All American Comfort Food Entrees: Our Top 10 All-Time Favorite Kitchen-Tested, Family-Feeding, Down Home Delicious American Comfort Food Dinner Recipes
by

Felix Whelan

&

Caroll Ann Whelan
Vegan comfort food? What's that? Try (I Can't Believe It's) NOT BEEF STEW TWO!, Vegan Spaghetti and Meatballs, None Dare Call It… "Meat Loaf!", Seitan Pot Roast in the Oven, Fool a Scotsman Vegan Shepherd's Pie, Gourmet Vegan Beans and Franks, Sweet Comfort Cafeteria Chili, Homemade Vegan Chicken and Dumplings that Taste Just Like Sweet Sue® !, "Half Homemade" Vegan Chicken Pot Pie and more!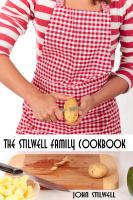 The Stilwell Family Cookbook
by

John Stilwell
(5.00 from 1 review)
This is a collection of recipes that spans three generations of the Stilwell Family. The earliest dishes are from the 1800's. In it you'll learn some family trivia, tying some famous figures and world events to meals served in an average American home.