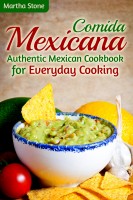 Comida Mexicana: Authentic Mexican Cookbook for Everyday Cooking
If you like eating with friends and family or simply want to try something different, Mexican cooking is fun and full of aroma. Whether you are searching for tacos, quesadilla, guacamole, flan or michelada. This book is step-by-step guide for making authentic Mexican food in easiest way. It consists of 25 delightful recipes which you will relish and share. Provecho!
Easy and Delicious Party Dip Recipes: Amazing Appetizers you can make at Home
Are you tired of spending tons of cash on store bought dips every time you feel for some chips and dip? Did you know that making your own party dip can be a fun, easy and exciting experience the whole family can share? Well, if you didn't know before, this book will definitely convince you as all your friends and family will be regarding you as a supreme being of appetizers.