Rehab Thru Recipes
In this short booklet you will find links to my recipes that are delicious, nutritious and low calorie. Happy Eating.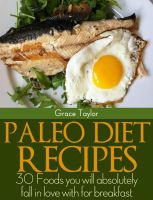 Paleo Diet Recipes:30 Foods you will Absolutely Fall in love with for Breakfast
If you want to have a long, healthy and happy life, it is essential that you take the up most care with regards to the type of food you put into your body. It is really that simple if you want to keep yourself and your body in perfect condition - the first step that you need to take is to ensure that you eat healthily.