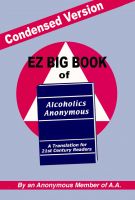 Condensed Version: EZ Big Book of AA
by

Anonymous Member of AA
This book is a condensed version of the "EZ Big Book of Alcoholics Anonymous," published in 2010 as a modern "translation" of the 1939 text of "Alcoholics Anonymous" (Big Book)--which has never been updated. The revision is reader-friendly, has no sexist language, and embraces many types of spirituality. This condensation is about 1/3 the length of the 2010 book but contains all the major points.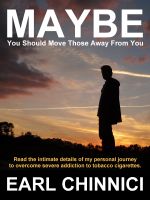 Maybe You Should Move Those Away From You
by

Earl Chinnici
(5.00 from 2 reviews)
At forty years of age, I was impoverished and severely addicted to tobacco cigarettes. I could not even afford a decent birthday gift for my dear friend Cathy I had met online years earlier. This book conveys the story of how my friend turned my makeshift present for her into a gift of life for me. I share details of how I gradually overcame my addiction. I also share tips, photos, and more!