Genetically Modified Foods vs. Sustainability
by

Bruno McGrath
(5.00 from 1 review)
"We can't solve problems by using the same kind of thinking we used when we created them." – Albert Einstein This ebook points out the surrounding issues of genetically modified fruit and vegetables that consumers are unaware of. While several parties defend the use of technology to create food, it appears that little is being done to increase awareness about this matter to the end consumer.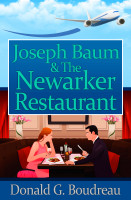 Joseph Baum & The Newarker Restaurant
by

Donald G Boudreau
(4.50 from 2 reviews)
This memoir by Dr. Donald G. Boudreau memorializes and underscores the significance to the culinary world writ large, of the rather remarkable feat accomplished in 1953 by the highly innovative restauranteur, Joseph H. Baum (1920-1998), who would go on to becoming known as the father of the modern restaurant, in creating his premier theme restaurant, the first of many for Restaurant Associates.