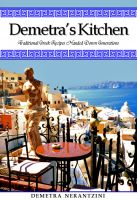 Demetra's Kitchen: Traditional Greek Recipes Handed Down Generations
by

Demetra Nerantzini
(5.00 from 2 reviews)
**iTunes 'New & Noteworthy' selection February/March 2012** Demetra's Kitchen is a personal collection of traditional Greek recipes that have been handed down generations, including Baklava, Gyros and Leg of Lamb. Demetra's recipes are broken down step-by-step and you will not only learn the traditional way of cooking Greek, you will learn a family history told through sight, smell, touch & taste.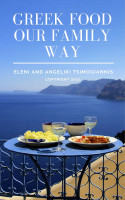 Greek Food Our Family Way
by

Eleni Tsimogiannis

&

Angeliki Tsimogiannis
(5.00 from 1 review)
Angeliki and Eleni Tsimogiannis are mother and daughter. Angeliki immigrated to Australia over 50 years ago and with her she brought her family's much prized Greek recipes. This book has 8 traditional recipes which we hope you enjoy cooking and serving to your family and friends.