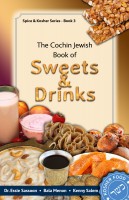 The Cochin Jewish Book Of Sweets And Drinks
by

Dr Essie Sassoon

,

Bala Menon

, &

Kenny Salem
(4.00 from 1 review)
Festivals meant many kinds of sweets for the Jews of Cochin from India's lush Malabar coast where they lived joyfully for 2000 years. From ultra-sweet egg yolk strings to golden-brown dumplings, nut brittles, coconut puddings, stuffed crepes and other jewel-like confections, it's a continuous celebration with sweets the Cochinis describe as 'sublime'. They continue to make them in Israel today.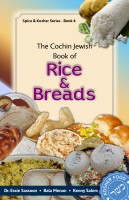 The Cochin Jewish Book Of Rice & Breads
by

Dr Essie Sassoon

,

Bala Menon

, &

Kenny Salem
(4.00 from 1 review)
Rice is a vital part of life; embedded in the consciousness of the Cochin Jews, with its spiritual and religious connotations and its association with life cycle events. The grain is kosher and not forbidden for Cochinis (as they are called in Israel) even during Passover, under a religious dispensation! The grain takes many incarnations in Cochini kitchens throughout the day - at every meal.