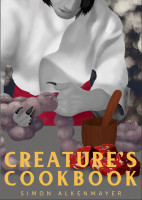 The Creature's Cookbook
by

Simon Alkenmayer
I am a monster. The kind that eats people. Yes, we are real, but do feel free to doubt me — your doubt stocks my freezer. In the strictest sense, I'm a humanitarian. Welcome to my diary — where modern skepticism has enabled me to divulge my secrets and my recipes.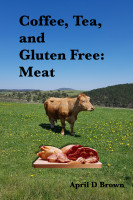 Coffee, Tea, and Gluten Free: Meat
by

April D Brown
Series:
Cookbook
, Book 3. Price:
$3.99 USD.
Words: 51,120.
Language: English.
Published: April 15, 2015
. Categories:
Nonfiction
»
Cooking, Food, Wine, Spirits
»
Health & healing / gluten-free
,
Nonfiction
»
Cooking, Food, Wine, Spirits
»
Specific Ingredients / Meat
Meat is naturally gluten free, and usually, naturally allergen free. This 75-recipe cookbook contains delicious and affordable beef, pork, poultry, and seafood dishes. Most contain directions for complimentary vegetables, whether baking, boiling, or grilling!