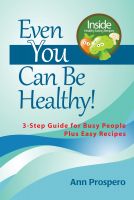 Even You Can Be Healthy!
Written just for busy people who want to be healthy and gradually lose weight. There are numerous easy recipes and full-day menus. The 3-step guide to health includes not only eating nutritious foods but also finding exercise and rest in your everyday life. Also in the book: nutrition information, kitchen tools, frugal shopping, exercises, meditation techniques, and Celebration menus and recipes.
Things a Monkey Could Cook
Ever have the urge to monkey around in the kitchen? Then look in here for primate-proof directions to some popular favorites. Of course you can do it!