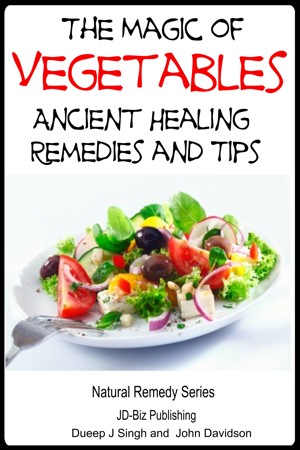 The Magic of Vegetables - Ancient Healing Remedies and Tips
by

Dueep Jyot Singh

&

John Davidson
Series:
Health Learning Books
, Book 45 ·
Herbal Remedy Series
, Book 28. Price:
$2.99 USD.
Words: 6,540.
Language: English.
Published: February 27, 2014
by
JD-Biz Corp Publishing
. Categories:
Nonfiction
» Cooking, Food, Wine, Spirits
» Specific ingredients / vegetables
,
Nonfiction
» Health, wellbeing, & medicine
» healthy living
Nothing can take the place of cereals and grains in your daily diet in the same manner, vegetables have their own invaluable and irreplaceable place in the diet groups which make up your daily meals. The benefits of vegetables eaten raw, or cooked, then means that you are going to have a tasty meal, with natural digestive products being added to your system.