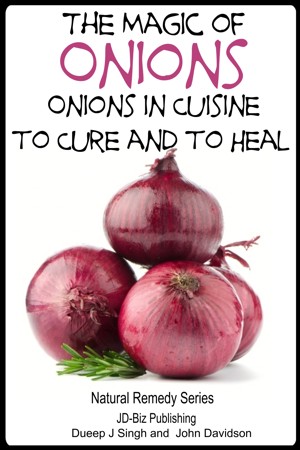 The Magic of Onions - Onions in Cuisine to Cure and to Heal
by

Dueep Jyot Singh

&

John Davidson
Series:
Health Learning Books
, Book 36 ·
Herbal Remedy Series
, Book 20. Price:
$2.99 USD.
Words: 8,160.
Language: English.
Published: February 26, 2014
by
JD-Biz Corp Publishing
. Categories:
Nonfiction
» Health, wellbeing, & medicine
» herbal medications
,
Nonfiction
» Cooking, Food, Wine, Spirits
» Specific ingredients / vegetables
Is there really Magic in onions, you may say, because according to you, onions are those sharp and pungent smelling, vegetables, which you normally do not allow within smelling distance of your nose and kitchen? The onions eaten by men more than 5000 years ago, according to archaeological findings may have been wild onions, but 3000 years ago, Egyptians were writing about cultivated onions.