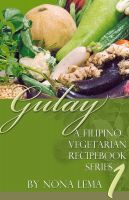 Gulay Book 1, A Filipino Vegetarian Recipebook Series
by

Nona Lema
'Gulay' is a Filipino vegetarian recipebook series written by the best-selling author Nona Lema. It is so aptly named because 'gulay' in the Filipino language means 'vegetable'. This recipe book series comes from the Philippines, a beautiful country in Southeast Asia with more than 7,000 scenic islands.'Gulay' features traditional Filipino cuisine cooked the vegetarian way.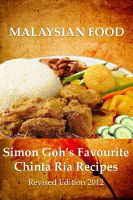 Simon Goh's Favourite Chinta Ria Recipes
by

Simon Goh
This is a collection of some of Simon Goh's favourite recipes - Malaysian cooking at its best - with a couple of very surprising modern ingredients for the time poor. There are 4 Signature Dishes for which Simon's restaurant... Chinta Ria Temple of Love is reknown, 6 main course dishes such as Ayam Ria and Beef Rendang and 2 sweet dishes. And of course roti canai and roti murtabak.