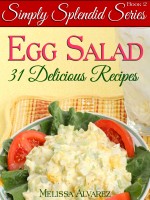 31 Simply Splendid Egg Salad Recipes
Eggs, eggs, eggs!! They're in almost every baking recipe and a staple in most homes. Eggs are one of the most versatile foods and are the main ingredient in the recipes in this book.
Get Cracking! 30 Hard Boiled Egg Recipes
Have you ever wondered what to do with all the hard-boiled eggs that are left after the Easter egg hunt is over? Are you tired of egg salad and deviled eggs? If you answered yes to either of these questions, then this is the book for you. Get Cracking contains 30 unique and tasty recipes that use hard boiled eggs. Try it. We know you'll like it.