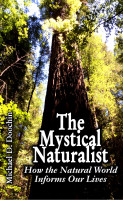 The Mystical Naturalist: How the Natural World Informs Our Lives
by

Michael Doochin
The Mystical Naturalist is a consideration from the natural world perspective on consciousness, choice, growth, time, and death, in the context of quantum physics, Kabbala, and healing energy; a discussion of natural communities, seasons, migration, cycles and balance, as well as our special relationships with other species; a facilitation for "naturalist" observers in all aspects of their lives.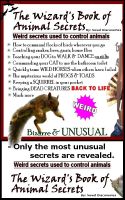 Wizard's Book of Animal Secrets
by

Novel Discoveries
Just Imagine! Command and rule over the animal kingdom: horses, bats, rats, insects, snakes, dogs, cats, toads, frogs, birds and more. Only the most unusual is offered. Much more than a simple training manual, this is a collection of rare, bizarre effects that will amaze and astound everyone. Be a Wizard - Rule the Animal Kingdom Strange & unusual information found nowhere else!
Related Categories