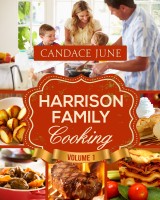 Harrison Family Cooking Volume 1
(5.00 from 1 review)
Over 30 simple and easy to make recipes. Great to make together as a family or a single person! Coleslaw, Macaroni Salad, My Mom's Potato Salad, Lasagna, Country Chili, Beef Stew, Mac and Cheese, Flapper Pie, Cocoa Crispy Roll, Shortbread Cookies, My Granny's Apple Pie and Marcia's Ginger Cookies.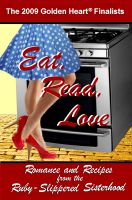 Eat, Read, Love: Romance & Recipes from the Ruby-Slippered Sisterhood
They say the way to a man's heart is through his stomach. If so, then you'll need a copy of EAT, READ, LOVE! This unique literary cookbook pairs recipes with excerpts from the romance novels that inspired them. Join the members of the Ruby-Slippered Sisterhood for some "romancing the stove," and delight in romance and recipes from some of today's hottest rising stars.