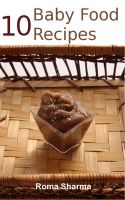 Baby Food Recipes - Lite
by

Roma Sharma
Baby Food Recipes - Lite, is a light version of the popular book 60 Great baby food recipes by Roma Sharma. In this book you get a sneak peak into what makes the original book so popular. If you like these recipes be sure to buy the original book.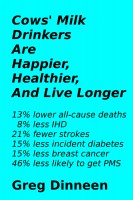 Cows' Milk Drinkers Are Happier, Healthier, And Live Longer
by

Greg Dinneen
Meta-analyses show that people, who drink the most milk, have the lowest IHD, strokes, diabetes, and overall total death rates. Women, who drink the most milk, have 15% less breast cancer. Women, who consume the most low-fat dairy, are 46% less likely to get PMS. And, Vegans get 30% more bone fractures than milk-drinkers. Also includes: How To Win An Argument With A Vegan.