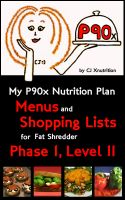 My P90x Nutrition Plan: Menus and Shopping Lists for Fat Shredder, Phase 1, Level II
by

CJ Xnutrition
(4.86 from 14 reviews)
P90x, Beachbody's extreme fitness program, is hard enough without worrying about planning your meals using the P90x nutrition guide! This handy meal plan with shopping lists for Phase 1, Level II removes the guesswork. Provides variety and comfort foods, uses common ingredients and leftovers, and is designed for lunches at work. Also includes cost saving tips for accomplishing P90x on a budget!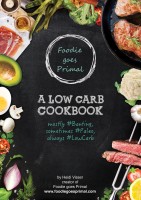 Foodie Goes Primal: A Low Carb Cookbook
by

Heidi Visser
(5.00 from 2 reviews)
This book is all about the enjoyment of food – in its real form – and to show you that you can eat well and healthy without compromising on taste or pleasure. All the dishes are low carb and real – nothing processed; no sugar, wheat or other nasties. Quick, easy & tasty LCHF dishes for the whole family.
Related Categories