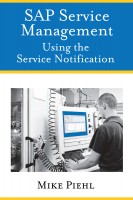 SAP Service Management: Using the Service Notification
by

Mike Piehl
Learn about how to use the SAP Service Notification. This book covers the recommendations to get started quickly, and full in depth look at all of the possible fields, and all of the options available to make the service notification fit your exact business needs.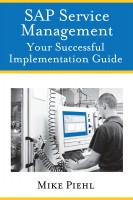 SAP Service Management: Your Successful Implementation Guide
by

Mike Piehl
This book is both a how to manual and a reference guide for configuring SAP Service Management. It provides you with a quick start guide to implementing SM. Then walks you through to see how the process will look for the user, and finally all the individual pieces of configuration that make up the process. Using this book allows you to successfully configure SAP SM.