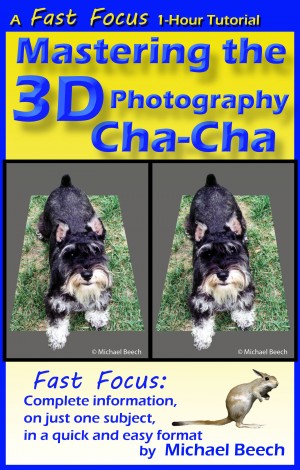 Mastering the 3D Photography Cha-Cha
by

Michael Beech
How to make perfect cha-cha (single lens camera) 3D's. Cha-cha stereo is a powerful tool and wonderfully convenient, but it does have shortcomings and problems if not done correctly. How to apply this great technique and avoid any problems are the topic of this amazing tutorial. If you wish to vastly increase your quality and rate of success making stereos, this manual is your secret weapon.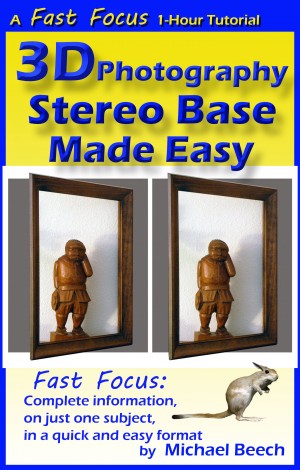 3D Photography Stereo Base Made Easy
by

Michael Beech
This book does not teach you how to take 3D Photos. What it does teach is how to make them great, by finding the best stereo base for every situation. In this easy to follow explanation, all the factors of stereo base calculation are explained. Then you will learn insider secret "keep-it-simple" tricks you can use instantly, in any situation, to find out the perfect separation for the stereo.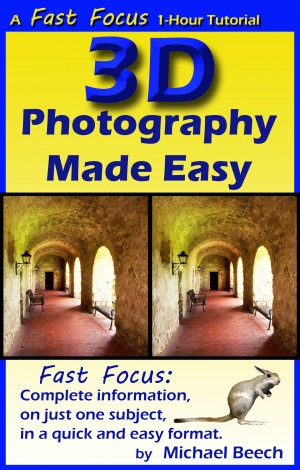 3D Photography Made Easy
by

Michael Beech
Do you want to make 3D photos using your phone, tablet or camera? Then, this book was written for you. Do you want to make your 3D's easier to view? Maybe you have done some 3D photography, but have questions. Whether you are just beginning, or you know about 3D and just need help, this guide will build the foundation you need. Plus, the incredible 3D Photography Glossary is included for free.
Related Categories