Excel Statistics: Step by Step
by

Stephanie Glen
A comprehensive guide to using Excel for elementary statistics. Includes over 60 functions for Excel 2007-2013, from basic descriptive statistics to hypothesis testing. Topics include: Range, Mean, Mode, Median, Interquartile Range, Standard Error, the Data Analysis Toolpak, Skewness, Kurtosis, finding samples, T-Tests, Z-Tests, ANOVA, regression and dozens more.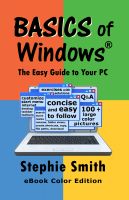 BASICS of Windows The Easy Guide to Your PC
by

Stephie Smith
Basic instructions for using Windows operating system. Concise and easy to understand. Over 100 large, full-color screen shots. Not version-specific so you learn the basic skills for any Windows PC. Simple exercises to test your knowledge and build confidence while you apply what you've learned. Question and Answer section covers what to do when things don't work the way they should.