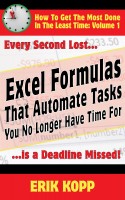 Excel Formulas That Automate Tasks You No Longer Have Time For
by

Erik Kopp
A Survival Guide To Getting The Most Work Done You Can In The Least Amount of Time using Excel to perform time consuming tedious tasks instantly and with no mistakes. With organizations getting leaner and leaner you need to have the most efficient tools at your fingertips to enable you to do the work of multiple people.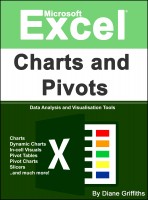 Microsoft Excel Charts and Pivots
by

Diane Griffiths
This book covers some really exciting ways to work with Excel. We talk about how to improve a basic report using powerful analysis and visualisation tools. The main areas we cover are charts and pivot tables; how to build both from scratch, best practice tips, dynamic charts, pivot charts and slicers. We'll also look at in-cell visualisation; sparklines and heatmaps, dashboards and infographics.