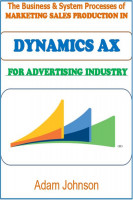 The Business & System Processes of Marketing, Sales and Production In Dynamics AX For Advertising Industry
by

Adam Jonhson
This book will focus on Marketing, Sales and Project Process. Track changes and versions of requirements through the negotiations phase, connect requirements to a project WBS, define rates, generate cost estimates and project time tables, milestone tracking, delivery schedules, proposals, contract reviews, project contract management and the service agreement and more...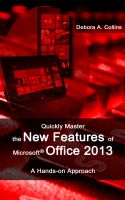 Quickly Master the New Features of Microsoft Office 2013
by

Debora A. Collins
This book is for the busy person who wants to quickly learn "what's new" in Microsoft Office 2013! It assumes the reader is already familiar with the basic use of one of the earlier versions, either Office 2007, Office 2010, or Office 2011 for Mac. Hands-on demonstrations are included. Office workers, students, teachers and IT Professionals will find this book concise and easy to follow.