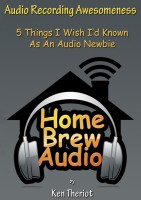 Audio Recording Awesomeness: 5 Things I Wish I'd Known As An Audio Newbie
by

Ken Theriot
(5.00 from 1 review)
All the things I wish I'd known when I first started recording audio – distilled for you in easy-for-anyone-to-understand (and also humorous) way. If you want to start recording pro quality music, voice-overs, podcasts, video narrations, etc., then this book will help you get started on a shoe-string budget. If you already record your own audio, you can make it better with the tips in this book.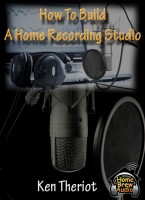 How To Build A Home Recording Studio
by

Ken Theriot
(3.00 from 1 review)
Step-by-step guide for building a computer-based home recording studio capable of producing professional quality music, voice-overs, video narration, podcasts, audio books, etc. Start recording pro audio for less than $100 - virtually anyone can afford it. Then upgrade as needed. The book gives you a gear shopping list as well as tips for optimizing audio quality regardless of what gear you use.