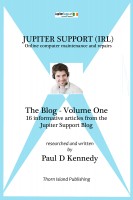 Jupiter Support: The Blog - Volume One
by

Paul D Kennedy
To keep your computer running smoothly, you need to know ... how to maintain your computer ... how to avoid malware such as viruses, spyware and key-loggers ... the latest threats and how to defend yourself against them. Written in easy to understand English, these 16 articles show you everything you need to know and do to maintain your computer in tip-top condition and enjoy surfing the web.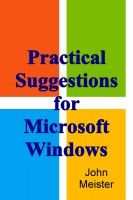 Practical Suggestions For Microsoft Windows
by

John Meister
If you use the DEFAULTS from Microsoft... YOU NEED THIS BOOK.... really. The details included will improve the performance of your system noticeably. If you're already a power user and done many of the recommendations, you will still likely find something that will help you with your system.