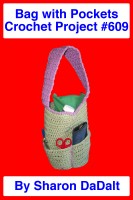 Bag with Pockets Crochet Project #609
by

Sharon DaDalt
A bag with outside pockets that can be used to hold craft-making items (crocheting and knitting supplies for a project). The handle and top portion of the bag can be folded in before placing items inside, enabling the bag to sit neatly on a table for use at home. This bag is easy to crochet and stands fully extended about 12 inches high. Each pocket is 7 inches high by 4 inches wide.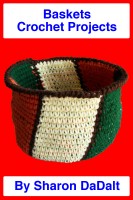 Baskets Crochet Projects
by

Sharon DaDalt
Three small Baskets to hold treats or gifts. Easy to crochet. These baskets can be made in various color combinations for special occasions, holidays or celebrations. The smallest version of these is great as a favor for each person at a dinner table.