Piggie in the Middle Story: Bush Medicine
(5.00 from 2 reviews)
This little book is written in an Aboriginal story-telling yarn way and is about my relationship with bush medicines. It is written for people interested in learning about bush medicine and explains the issues and outlines how to make it available whilst also preserving Indigenous knowledge. A 'must read' for anyone interested in such matters.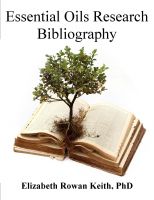 Essential Oils Research Bibliography
(5.00 from 1 review)
A bibliography of more than 400 sources covering over 220 years of international publications relating to essential oils from around the world.