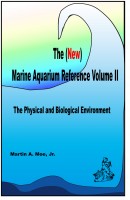 The (New) Marine Aquarium Reference Volume II
by

Martin A. Moe, Jr
The (New) Marine Aquarium Reference Volume II: The Physical and Biological Environment is the second of a five volume set of ebooks based on The Marine Aquarium Reference: Systems and Invertebrates by Martin A. Moe, Jr., first published in 1989 and sold over 80,000 copies. The ebook volumes preserve this enduring technical information and expand on it with new topics and new information.
Answers to College General Biology Exams
by

John Janovy, Jr
A superb study guide! This book contains all the biology exams given during a four-year period at a major university, along with the answers. Questions are sorted into general areas (genetics, evolution, metabolism, etc.) In the opening page there is a link to the highly recommended OUTWITTING COLLEGE PROFESSORS in either electronic or paper format.