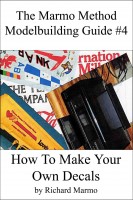 The Marmo Method Modelbuilding Guide #4: How To Make Your Own Decals
by

Richard Marmo
(5.00 from 1 review)
The fourth Marmo Method Modelbuilding Guide answers the question asked by a wide range of creative people...from modelbuilders to crafters of all types. Namely, how to make your own decals. Decal papers, in both clear and white, are now available that are designed to work with inkjet printers...and some with laser printers. Today, you can make your own decals, once you know how to do it.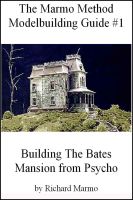 The Marmo Method Modelbuilding Guide #1: Building The Bates Mansion from Psycho
by

Richard Marmo
This guide details the construction of the 1/87th scale Polar Lights kit of the famous (or infamous) Bates Mansion featured is the classic movie Psycho. Construction techniques for a scratchbuilt hill to mount it on is included. Learn how to replicate chalky, cracked, weatherbeaten paint. Finally, scenicing/landscaping methods are described that tie everything together.