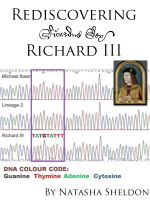 Rediscovering Richard III
by

Natasha Sheldon
(5.00 from 2 reviews)
In September 2012, archaeologists unearthed remains from a Leicester car park, covering what was once the city's medieval Franciscan friary. After five months of waiting and exhaustive scientific tests, those bones were revealed to be those of Richard III, the infamous last Plantagenet king of England and the last English King to die in battle.
Atlantis The Eyewitnesses
by

Walter Parks
(5.00 from 1 review)
Many believe that Atlantis was a myth created by Plato. Well Plato the Greek was not the first to write about it. We have found a very much earlier document. It was written in 9619 BC, about 9,250 years before Plato's writing. This ancient document is believed to be the oldest document that has survived almost intact down through the ages. It proves that Atlantis was real.