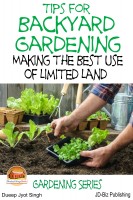 Tips for Backyard Gardening - Making the Best Use of Limited Land
by

Dueep J. Singh
Since ancient times, dietitians knew all about the value of vegetables in human diet. The absence of fresh vegetables would result in ill health, as well as the lack of body resistance, and future healthy growth. Vegetables furnish nourishment in the shape of starch and sugar. They also stimulate intestinal activity.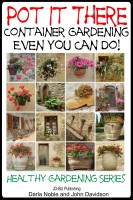 Pot it There - Container Gardening Even YOU Can Do
by

Darla Noble

&

John Davidson
This book will introduce you to new and unique options for pots—things you might never have thought of using otherwise. You will also be challenged to get your creative juices flowing in mixing and matching plants for attractive containers that will be the envy of everyone in the neighborhood.