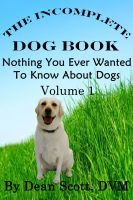 The Incomplete Dog Book - Nothing You Ever Wanted To Know About Dogs Volume 1
by

Dean Scott
(4.00 from 1 review)
This is a cartoon/humor book that looks at dogs and our love of them. It is set-up as a typical breed book but with parody styling, with Volume 1 covering general subjects as well as the Herding, Working, and Sporting breeds. This is for anyone who appreciates dogs and the fun and joy they bring us! Find out what this book has to say about your favorite breed or even your least favorite.
My Boney Girl
by

James Feasel
(5.00 from 3 reviews)
A stray abandoned cat wandered into my life and chronic kidney disease took her away many years too soon. Adjusting to life without her is a most difficult experience. Many of us know the joys of having a feline companion and the sorrow we feel when their spirit leaves this earth. Expressed in poetry, narration, photos and illustrations, we will share a connection when you read My Boney Girl.
Related Categories