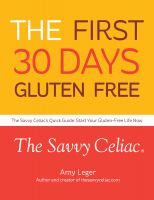 The First 30 Days Gluten Free
by

Amy Leger
(5.00 from 1 review)
The only treatment for celiac disease or a gluten intolerance is a gluten-free diet. Instantly making those gluten-free changes can be an emotional roller coaster with a steep learning curve. That is where The First 30 Days Gluten Free comes in. From diagnosis to action, this book will help you quickly adapt to the gluten-free diet: in your kitchen, at the store, school and even happy hour.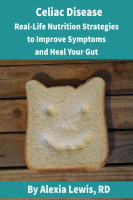 Celiac Disease: Real Life Nutrition Strategies to Improve Symptoms and Heal Your Gut
by

Alexia Lewis
(5.00 from 2 reviews)
Get real-life solutions for how to change your nutrition choices to improve your symptoms and heal your gut from nutritionist and health coach Alexia Lewis. Learn about being successful on a gluten-free diet and common nutrition deficiencies for those with celiac disease/on a gluten-free diet. This will be useful for those with celiac disease or a wheat/gluten allergy or intolerance.
Related Categories